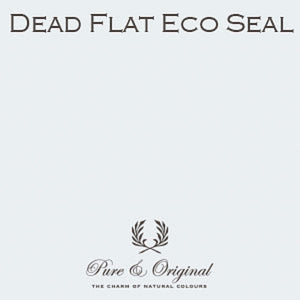 Dead Flat Eco Sealer
Pure & Original
Pure & Original Dead Flat Eco Sealer is an ultra matte, transparent and washable sealer.
For high traffic areas or high humidity areas (for example in the bathroom, around the kitchen sink) it is recommended to provide extra protection.
Application: apply 2 or 3 thin, diluted with about 25% water, coats with a brush and not with a roller to prevent air bubbles.  Leave 12 hours drying time in between coats.
Usage on Fresco and Marrakech Walls: Let the lime fully cure for a couple days, for dark colors a curing time 7 days is recommended to avoid the risk of a white haze. Avoid thick layers, dilute well. Do not clean with corrosive acids, degreasers or abrasive cleaners.
About the Sealer
Is heat resistant up to more than 100 

degrees Celsius

.

Walls, wood and other surfaces will become 

very washable.

Has a very matte appearance.
Friction gives no or hardly a shiny spot.
For middle and dark colors; let the paint dry at least 7-10 days to reduce the risk of

white haze.

Colors will become slightly darker and fuller.
Apply with a flat brush. Make sure the layers 

are very thin.

Always set up a test area first.